Weekly Beach Yoga Begins at Egg Harbor with Classes at 8 & 10 AM
Join Kathy Navis each week in Egg Harbor for Beach Yoga on Monday mornings.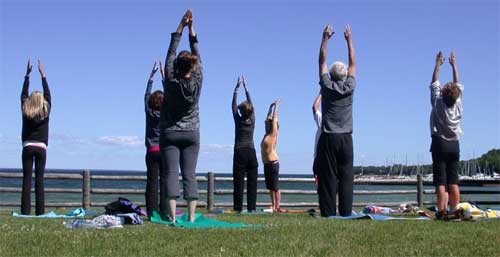 Start the week off right with yoga at the Egg Harbor beach! Join Kathy Navis and friends at either of two classes… Level II at 8 am or Beginner/Level I at 10 am. Kathy will bring mats and any props needed or bring your own to the far end of the beach in the grassy area just past the Paddle sports shack.
Drop-in's are always welcome… there's plenty of "space" at the Egg Harbor Beach. But if it is raining, classes will not take place that day. – $10 per session.
The enormous physical benefits of yoga are actually a side effect that comes from the greater work, harmonizing your mind with your body:
Increasing flexibility – yoga Asanas (poses) act upon the various joints of the body including those joints that are not often exercised, insuring retention of a full range of motion.
Increasing lubrication of the joints, ligaments and tendons – ancient yoga positions exercise the different tendons and ligaments of the body. Surprisingly, a human body which may have been quite rigid starts responding to yoga with a remarkable increase in flexibility, even those parts which have not been directly worked upon. Why? Research has shown that seemingly unrelated "non strenuous" yoga positions act upon certain parts of the body in an interrelated manner. When done together, they work in harmony to create a situation where flexibility is attained relatively easily.
Massaging all organs of the body – Yoga is perhaps the only form of activity which massages all the internal glands and organs of the body in a thorough manner. This stimulation and massage of the organs in turn benefits you by keeping away disease and providing a forewarning at the first possible instance of a likely onset of disease or disorder.
Complete detoxification – By gently stretching muscles and joints as well as massaging the various organs, yoga ensures an optimum blood supply to various parts of the body, flushing out which leads to benefits such as delayed ageing, energy and a remarkable zest for life.
Excellent toning of the muscles – Muscles that have become flaccid and weak are stimulated repeatedly improving muscle tone and overall fitness.
Junction Center Yoga Studio, also has a full slate of indoor yoga and tai chi classes taught throughout the week by several different instructors. The studio is open the year 'round at their rural re-purposed barn location on Junction Road, a few miles north of Jacksonport, just off County Highway A. Find out more by calling 920.823.2763, check the complete schedule online at JunctionCenterYoga.com and join in the conversation on Facebook at www.facebook.com/yogaclasses.