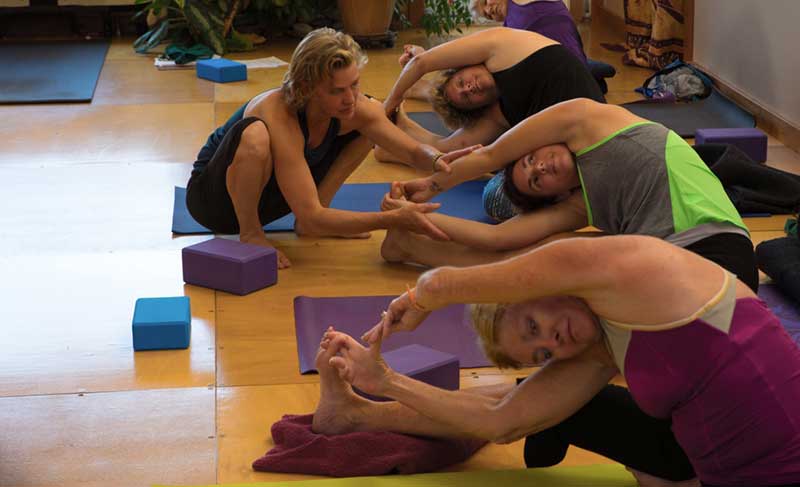 YOGA STUDIO CLASSES…
are based on the Ashtanga (Eight-Limbed) Yoga Tradition which includes elements such as breath work and meditation as well as the physical, hatha yoga practice. We begin the process by working with the breath, focus, and proper alignment in the asanas (postures). Individual instruction and a hands-on approach allows each student to feel the form of each asana.
As the process continues and students feel comfortable with the various asanas, we begin to work with the Vinyasa style of practice which simply means to flow from one asana to the next through a series of poses, thus increasing aerobic activity.
BEGINNERS' YOGA
This class is an introduction to the physical practice as well as the philosophy of yoga.This is a sequential class in which students will learn a series of poses building the sequence each week. Students will learn alignment, breathing practices and a full series of basic poses. Beginner yoga is suitable for complete beginners – people of all ages, degrees of physical conditioning and flexibility. Class meets once a week for 6 weeks.
FEES: 6-class series is $65 – and if you are under 30 years of age, the fee is $55


ASHTANGA YOGA
…an ancient system of Yoga that was taught by Vamana Rishi in the Yoga Korunta. This text was imparted to Sri T. Krishnamacharya in the early 1900's by his Guru Rama Mohan Brahmachari and was later passed down to Pattabhi Jois during the duration of his studies with Krishnamacharya, beginning in 1927. The Ashtanga series is a set sequence of yoga postures taught in the tradition of Sri K Pattabhi Jois. The sequence is rigorous and designed to build strength and purify the body. The primary series is a powerful practice which unites body, mind, and spirit. Beginners who are interested in a transformational practice are welcome.
FEES: drop-ins welcome, 5 classes – $60, 10 classes – $100, single sessions – $15

RESTORATIVE YOGA
This is a practice that helps to promote deep relaxation of the body and mind. Restorative yoga is great for practitioners at any level. Classes include gentle stretching, breathing and relaxation techniques. It is the perfect practice for those with physical limitations, injury, chronic pain and seniors although, even the experienced practitioner will benefit from this gentle practice. Restorative yoga is suitable for anyone in any body – we use props and gentle adjustments when necessary, to address any limitations you might encounter.
FEES: drop-ins welcome, 5 classes – $60, 10 classes – $100, single sessions – $15

LEVEL I
This ongoing class is intended for students with basic yoga experience and a regular practice – a follow-up for those who have mastered the basic poses in the beginner series or have prior yoga experience. Classes focus on developing strength and flexibility with a constant awareness of the flow of the breath. At this level the practitioner is expected to be familiar with sun salutations and ujjayi breathing. We take these basic poses a step deeper and increase the intensity with a vinyasa flow practice. We continue to deepen our understanding of form and alignment but also deepen our understanding of the role of mind in our lives and practice.
FEES: drop-ins welcome, 5 classes – $60, 10 classes – $100, single sessions – $15

LEVEL II
In Level II we broaden the foundation established in Level I by learning new and more difficult postures, as well as refining the basic postures. We work on strength, flexibility, and deepening our understanding of self through our practice. This class is appropriate for those who have completed Level I and want to move on or those with prior yoga experience.
FEES: drop-ins welcome, 5 classes – $60, 10 classes – $100, single sessions – $15

LEVEL III
Vinyasa style or flowing yoga is the focus of this class. This is a more challenging and aerobic practice requiring a good knowledge of the basic asanas and sufficient strength and flexibility to move fluidly through the practice. In Level III we will deepen the exploration of meditation, Pranayama (breathwork), and other aspects of the Ashtanga tradition.
FEES: drop-ins welcome, 5 classes – $60, 10 classes – $100, single sessions – $15

Note regarding fees: No one will ever be turned away due to inability to pay, please ask.
PRIVATE YOGA CLASSES…
Private yoga sessions are available at the studio or in your home.
Cost:
$65/hour in the studio for up to 4 people, additional people $15/person
$100/hour in your home for a class of 1-2 people, additional people $15/person