The Grim Facts Department reports that  more than 50,000 people wind up their exercise routines in the emergency room every year because of mishaps on gym equipment, according to numbers from the Consumer Products Safety Commission.
Worse yet, more than 17 million Americans are treated for sports-related injuries each year, including 3 . 5 million children under the age of 14.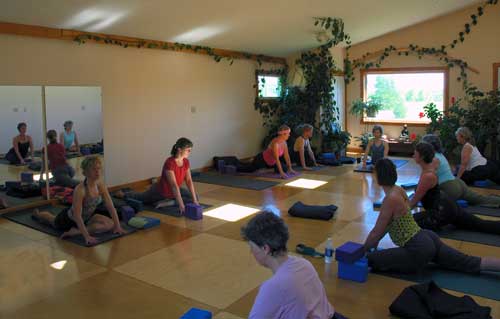 While we at Junction Center Yoga Studio encourage you to maintain a focus on the bright side of life, it's sometimes valuable to reflect of why yoga is such an important lifetime "sport" – one that should be taught in schools and practiced throughout life for optimal health and well-being.
It certainly appears that many more people including the mainstream media agree. On Point Radio recently featured Strike a Pose For Yoga that explains, "Yoga in America. How downward dogs and crow poses went mainstream."
The New York Times recently featured When Chocolate and Chakras Collide.
"The words of Ziggy Marley's 'Love Is My Religion' float over 30 people lying on yoga mats in a steamy, dim loft above Madison Avenue on Friday. All had signed up for a strange new hybrid of physical activity: first an hour of vigorous, sweaty yoga, then a multicourse dinner of pasta, red wine and chocolate…"
The fact that more peoiple are discovering the long-term benefits of paying attention to you physical and mental flexibilityis an encouraging sifn of the times. We hope that you are among them! And if not… Join us in the next Beginner's 6-week series to learn more. The hardest part of change is often just taking that first step.