Join us at Junction Center Yoga Studio on Saturday, June 22 from 7 – 9 pm, as Dennis Hawk and Amy Schneider lead a shared musical experience known as Kirtan, featuring Sanskrit mantras set to fresh melodies and sounds.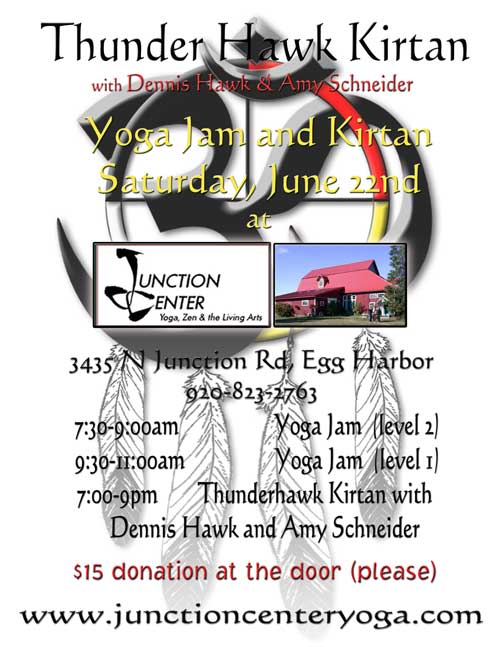 Kirtan is intended as a holistic healing experience designed to bring participants into a more organic form of meditation, either in stillness or in motion. One of the oldest of sacred sound traditions, Kirtan's call-and-response chanting involves Satsang, an ancient Sanskrit term that describes the community that exists between an assembly of people who listen to, talk about, and assimilate their impressions of truthfulness.
On Solstice Saturday morning, Level I and Level II yoga classes at Junction Center will include Yoga Jams – live music to accompany your asanas.
Dennis Hawk, a Cherokee of Mesquaki descent, a pipe carrier and teacher of Native American spirituality, is also a well-known singer, songwriter and story-teller who plays guitar and Native American flute. He does a superb job of sharing his Kirtan insights and knowledge of Sanskrit chanting, its purpose and how it may affect you in order to deepen your own understanding and spiritual experience with Kirtan. There are no prerequisites or religious beliefs needed to participate in Kirtan, just bring an open heart and mind and join in by lifting your voice or just sit back and listen to how the music, vibration and meaning impacts you physically, mentally and spiritually.