It all started with the Door County Maritime Museum's "Merry-Time Festival of Trees."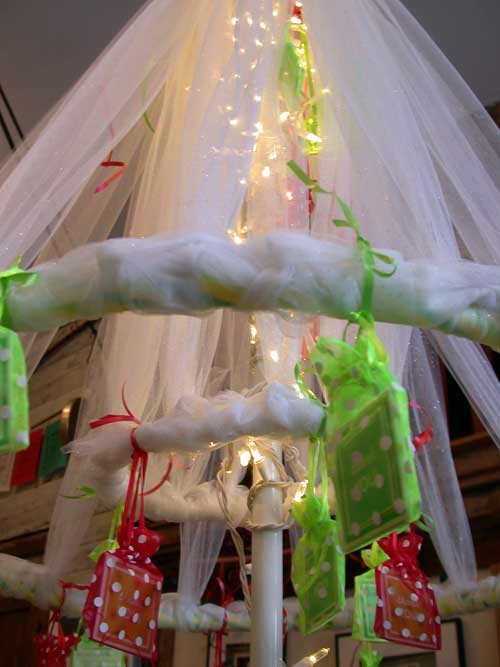 Peg Lowry, owner and manager at the Blue Dolphin House in Ephraim, was one of the many local businesses and organizations that created a unique Christmas tree donation.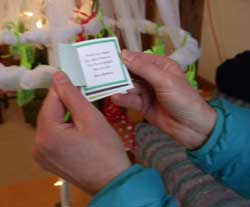 She decided to fashion a Gratitude Tree, adorned with tiny bundles of thankfulness notes. Every tree went home with a lucky winner on December 10 at the museum's "Jingle, Jingle, Mix & Mingle" raffle! Nancy Erickkson, a regular Junction Center yoga practitioner, also works at the Blue Dolphin and attended the museum festivities. When she won the tree, she decided it belonged at Junction Center…  (Thanks so much Nancy!)
You are encouraged to bring non-perishable food or personal care items to Junction Center as a donation to Lakeshore CAP (Community Action Program). The CAP's motto, "Increasing economic self-sufficiency in Door, Kewaunee, Manitowoc and Sheboygan Counties," is reflected in their programs to educate families, protect youth, secure shelter, deliver skills training, promote entrepreneurship and to provide food for the needy throughout northeastern Wisconsin. Your contribution will be delivered to Door County's CAP located at 131 S. 3rd Avenue in Sturgeon Bay.
The Gratitude Tree has a pair of scissors hanging from one of the branches and a card that explains, "In return, please take with you one of the little polka dot bags filled with notes of appreciation and pass them on to others to whom you are grateful! May the spirit of Gratitude remain with you!"
Each of the cards in the packets has a different saying about gratitude and a place to write 3 reasons why you are grateful to the specific individuals that you choose give a card to. So, plan on sharing the joy next time you visit Junction Center Yoga Studio and have a Merry Holiday Season!