Carol Hoehn returns lead students of Tai Chi in an ongoing series, sharing her knowledge of one the oldest forms of Chinese martial arts.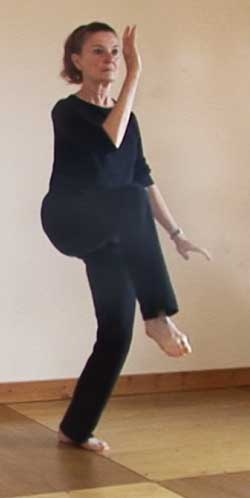 Often described as "meditation in motion," Harvard Health Watch says, "Tai chi might as well be called medication in motion. There is growing evidence that this mind-body practice, which originated in China as a martial art, has value in treating or preventing many health problems. And you can get started even if you aren't in top shape or the best of health."
Carol Hoehn presents summer classes in tai chi chuan, meeting twice a week on Mondays and Wednesdays from 8 – 9:15 am at Junction Center Yoga Studio. Lifelong ballet dance instructor, Hoehn studies tai chi chuan under Chan Ming Shu and Chen Tzu Wei, two highly regarded masters. As practitioner, spending most of each year in China under their mentorship, she has entered and placed in the World Cup Tai Chi Chuan Championships in 2008 and 2010.
Her twice-weekly morning classes at Junction Center will be appropriate for students with no prior experience and will focus on the basic principles of breath and motion, including a basic form for daily practice. Loose-fitting clothing is encouraged and appropriate for the classes.
Tai chi chuan is at the root of all traditional martial arts and is practiced for both meditative and health benefits as well as for self-defense. It is also practiced by people of all ages. Carol's classes also  include a study of Qigong, "breath work" or "energy work," which consists of focusing on the action of breathing combined with movement.
"A growing body of carefully conducted research is building a compelling case for tai chi as an adjunct to standard medical treatment for the prevention and rehabilitation of many conditions commonly associated with age," says Peter M. Wayne, assistant professor of medicine at Harvard Medical School and director of the Tai Chi and Mind-Body Research Program at Harvard's Osher Research Center.
Call 920.823.2763 for more information or to reserve a place.